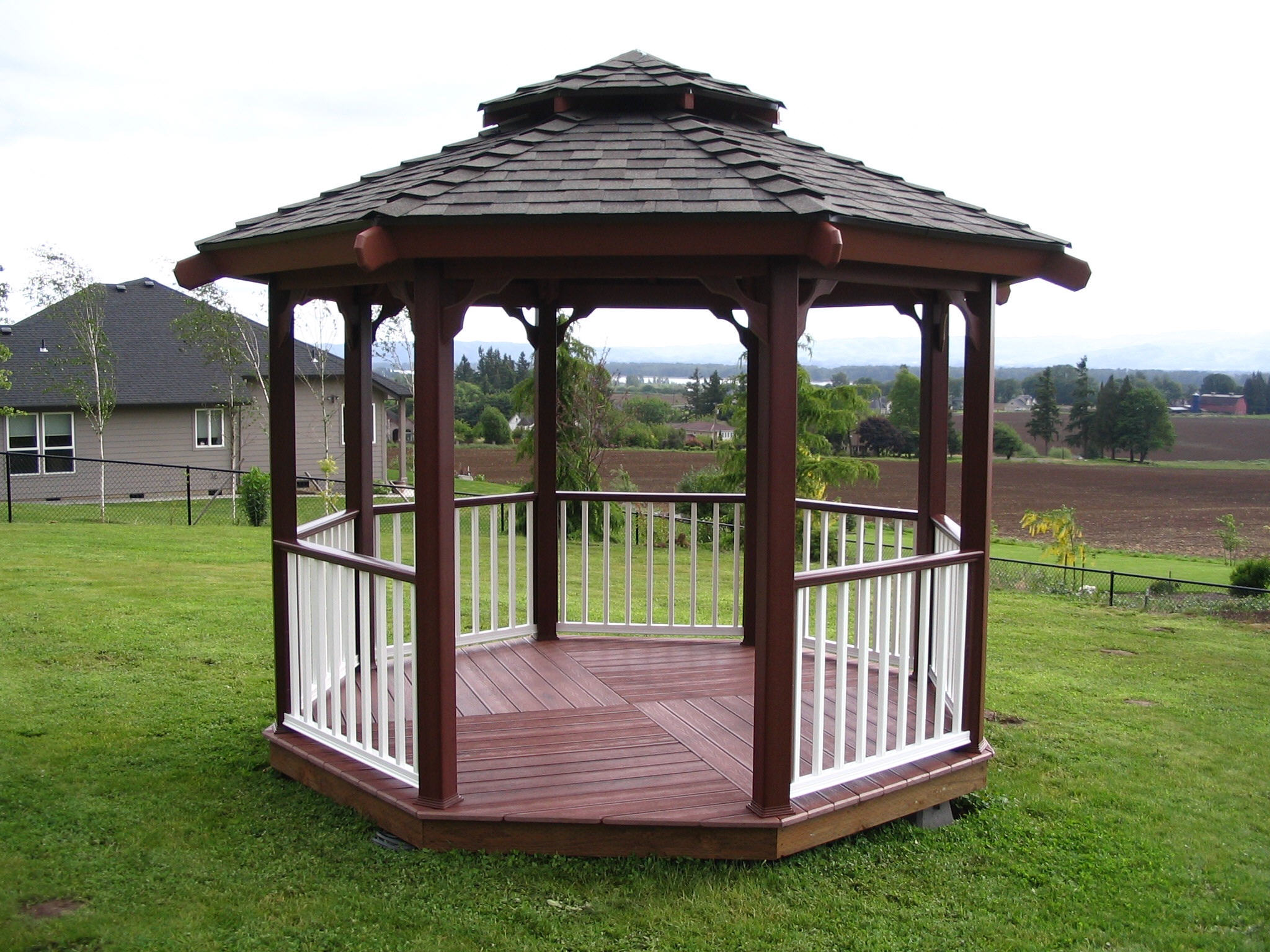 The 12' Monarch style Gazebo kit with the composition style roof and white railing using the Mahogany exotic hand rail system provides a wonderful contrast on a low maintenance no maintenance type gazebo. This one Has Mahogany post sleeves, White Railing with a Top Mahogany Handrail. This option would be the last choice on the drop down menu.
For an enlarged view click on thumbnail then return with browsers back button
Our low maintenance gazebo is manufactured with Monarch's co- extrude/composite Exotics decking and railing system.
We use the chameleon rail system using white balusters and a top handrail that matches the decking.
What the Composite Kit consists of :

7-fully assembled sides

8-white post sleeves with a solid Doug fir 4x4

4-pie shaped roof framework

8-3/4"AC Plywood cut to fit

Felt, Flashing and composition shingles, ridge caps.

All hardware and instructions.

The Deck is built into 4 qtr panels.
This Gazebo can be ordered with or without the deck, It is normally installed on concrete deck blocks using a pt 4x4 to level ...( this is the customers responsibility to purchase at their local building store. Our instructions do show you how to use them and where to place them.
There is some assembling on site however everything is pre-cut to fit, and pre drilling is a must. This project will take approximately 8-10 hours to complete.
The roof is constructed using 2x6 western red cedar and sealed with a 15yr solid stain to match the Exotics color palette. We use a 30 year architectural composition shingle and the high - rise ridge caps. The composite material used to manufacture this product is the result of advanced composite technology that delivers the look, fell and workability of wood, without the maintenance headaches. Monarch's patent-pending color process creates boards that are unique and one-of-a-kind ~ realistic in their color veining, shading and graining. Exotic's decking meets ADA standards for slip resistance.
All composite gazebos are made with available composite products as of 2022 as this monarch composite is no longer made

Call now to order 208-691-4787



Email:

GazeboGuy@Gmail.com